Timetable
We are now open again for 2021! You can see all the COVID-19 related information you will need for your vist on our Reopening Information page. 
Service Update
Please note, we are closed on September 4th due to the reschedulling of our Annual General Meeting, we will be running on Sunday 5th as normal.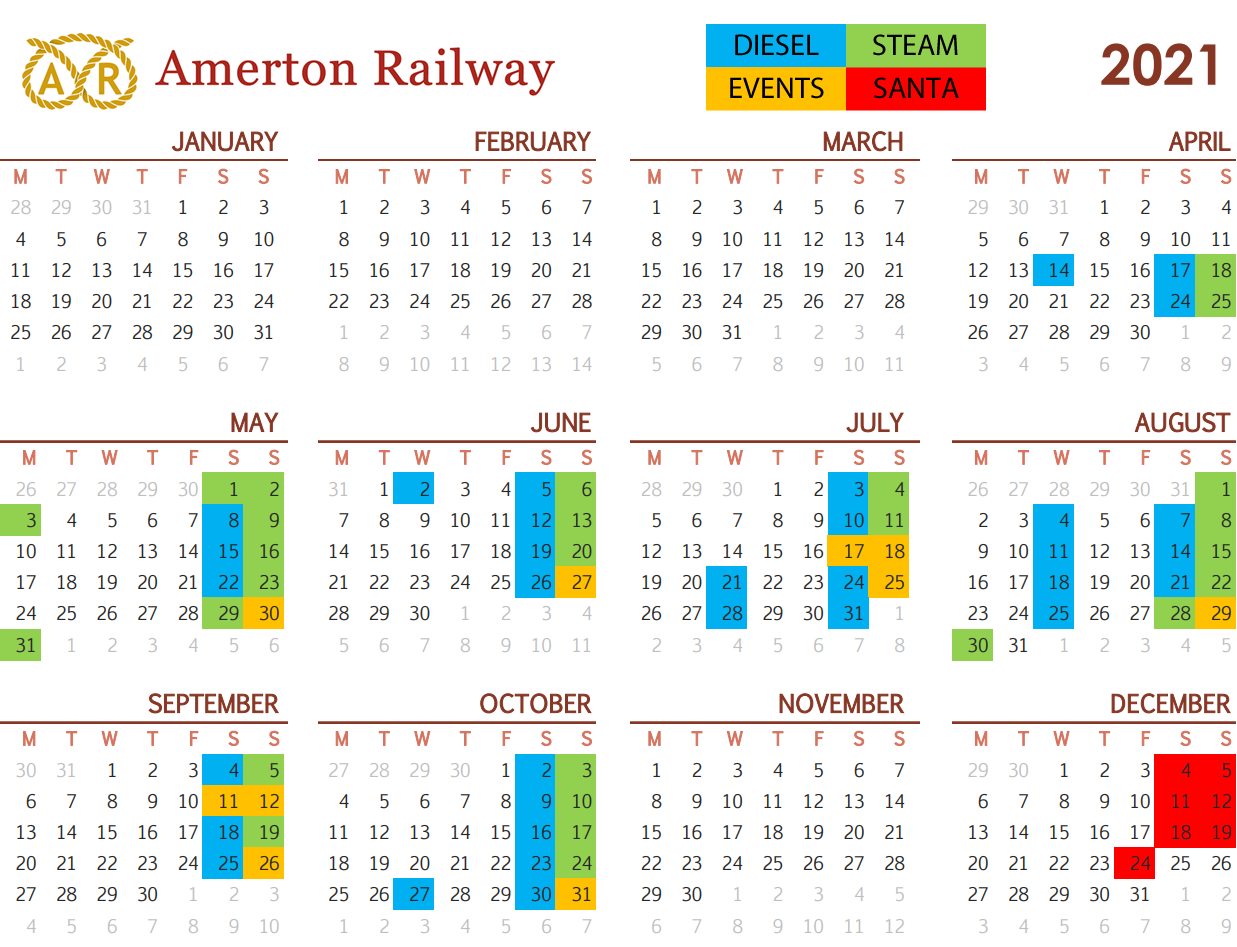 Diesel Trains –

 11:30 until 16:30 (11:30 until 16:00 on Wednesdays)

Steam Trains –

 11:30 until 16:30

Special Events –

 Start times vary for the events


Two-Train running days (once a per month on Sundays, more information below)
Steam Gala 17th & 18th July
Everything Goes Gala 11th September
Classic Car Rally 12th September

Santa Specials –

 More information coming soon
Train Times
Train times on our normal running days can be viewed here, these do not apply on special events.
Standard Fares
All tickets are £2 per ride. There is no need to book for these days, including two-train running days.
Please note that different fares may apply during Special Events please check their pages for details.
---
Two-Train Running Days
A new permanent addition to 2021 is our Two-Train running days. We tested these to great success in previous years, and now we have made them a regular monthly feature.
These days will comprise of at least one steam locomotive and another diesel or steam locomotive hauling passenger trains and demonstration trains throughout the day, like a mini-gala!
Our special two-train running days will be on the following dates:
May 30th
June 27th
July 25th
August 29th
September 26th
October 31st
Our famous Steam Gala is back for 2021 on the 17th and 18th of July with lots of action! See the special events page for more informaiton.
The ever popular Everything Goes returns as a one day event this year as the Sunday will play host to our Classic Car Rally!
New for 2021 – We are holding a classic car rally, more details will be confirmed soon, but it stands to be an excellent event with classic trains and classic cars!
Disabled Access
If you require disabled access on a diesel service, please let us know and we will be happy to accommodate you. Alternatively, if you let us know at 11:30 on the day we will be able to accommodate you on a later train. Disabled access is available on all Sunday services. This is subject to availability of our disabled access carriage.
---
All services are operated by heritage vehicles and our team of volunteers, because of this all services are subject to the availability of heritage rolling stock and volunteer crews. If you would like to volunteer please see our volunteering page and get in touch.