How to find us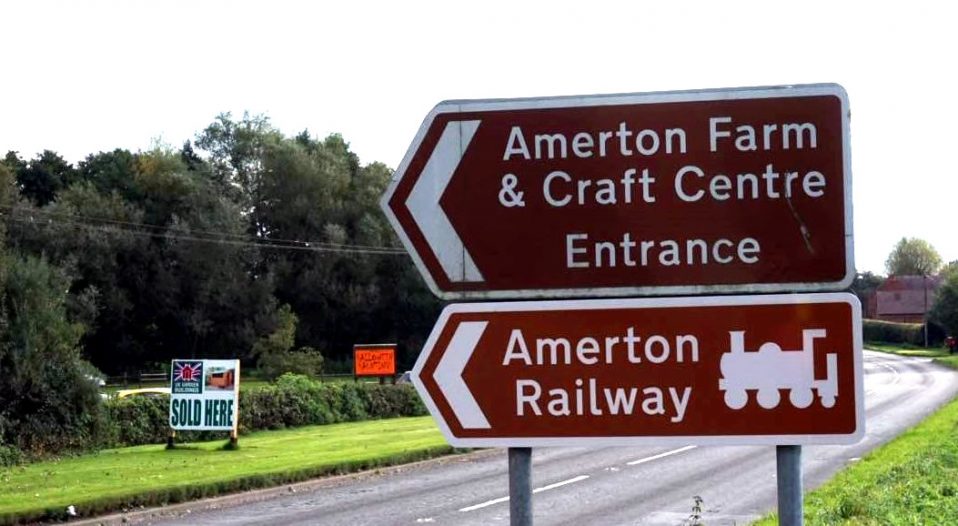 Amerton Railway is located 6 miles northeast of Stafford, on the A518 between Stafford and Uttoxeter. Our entrance is to the right of the Butchers/ Craft Centre in the Amerton Farm car park. You can follow the brown "Amerton Railway" tourism signs from Stone, Uttoxeter, Rugeley, or Stafford which will direct you to us.
For GPS Navigation you can use the post code ST18 0LA.
Parking
Parking is free all day in the Amerton Farm car park, our entrance is clearly visible from the Amerton Farm car park.
Public Transport
The D&G bus routes 841 and 841A operate from Stafford to Uttoxeter, the closest stop is at the Church in Stowe by Chartley. The Amerton Railway is approximately a 20 minute walk (along roads without pavements, including the main A518) from Stowe by Chartley (zoom in on the photo below to see Stowe by Chartley in relation to the Amerton Railway). Unfortunately the bus service is Mondays – Saturdays only, for bus information and timetables please consult the D&G web site www.dgbus.co.uk or telephone Travel Line on 0871 2002233.