Santa Specials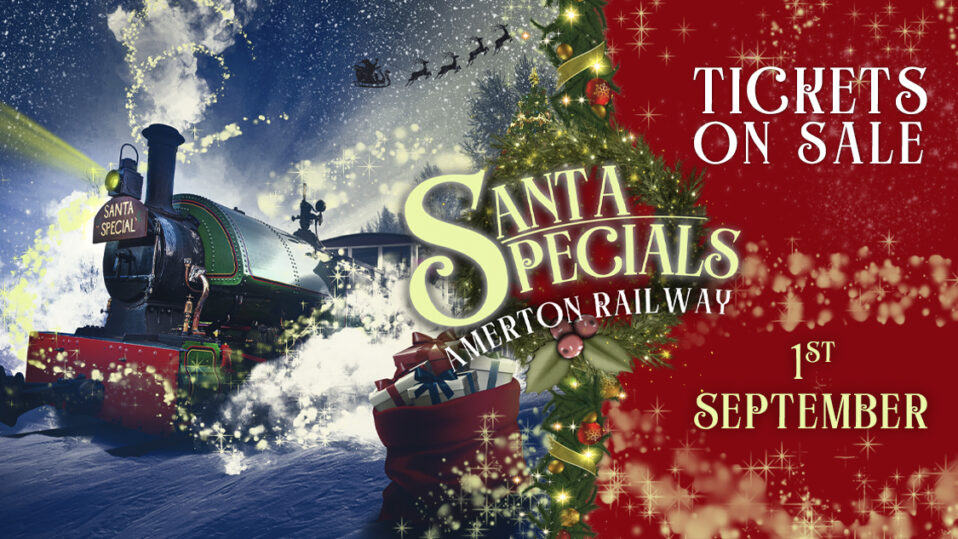 Come and join us for our Santa Specials in 2021!
Santa and his Elves are back for 2021! Come and enjoy the magic with us! Booking opens 1st September 2021.
Due to the ongoing pandemic, we are selling tickets on a compartment basis in our carriages, where you will be separated from other guests.
Board a steam train at Amerton Station and travel to Toyland to meet Santa and receive a hand-picked gift! You also receive a festive goodie bag to enjoy while surrounded by beautiful Staffordshire countryside as the train meanders through the fields on a frosty winter's day.
Prices
Tickets are for the entire compartment on the train carriage, you do not require one for each guest.
All of our trains have now sold out. Please message us on Facebook as we may have cancellations available closer to our event.
The accessible compartment will carry one wheelchair and has a bench that will seat 3 adults comfortably, if you book this compartment without a wheelchair it will sit 6 people, but please book other compartments first. Your ticket is for the entire compartment, rather than a "per-seat" basis.
COVID-19 Safety
We have developed and perfected our safety practises to minimise any risks on your visit. The major changes to Santa Specials this year are as follows:
Carriages fogged with disinfectant daily
Common touch surfaces cleaned regularly
Reduced train capacity to help enforce social distancing
Compartments isolated with clear screens
One-Way system on the platform to reduce busy spots
It's all for Charity!
This event is organised by our volunteers to support the charity that maintains our heritage steam and diesel locomotives. All of our volunteers are very enthusiastic and are eager to make sure your visit is as special as possible. If you have any questions or special requests, please let us know!
In the past we've had marriage proposals, with the ring presented by Santa, as well as baby gender reveals, and special birthday or Christmas presents!
Dates
Our Santa Specials are running on every Saturday & Sunday in December, and Christmas Eve.
We have presents for children of all ages from babies to 8+.
Please note that you will be unable to book tickets for a train on the same day you wish to travel, booking closes at midnight.
Book your tickets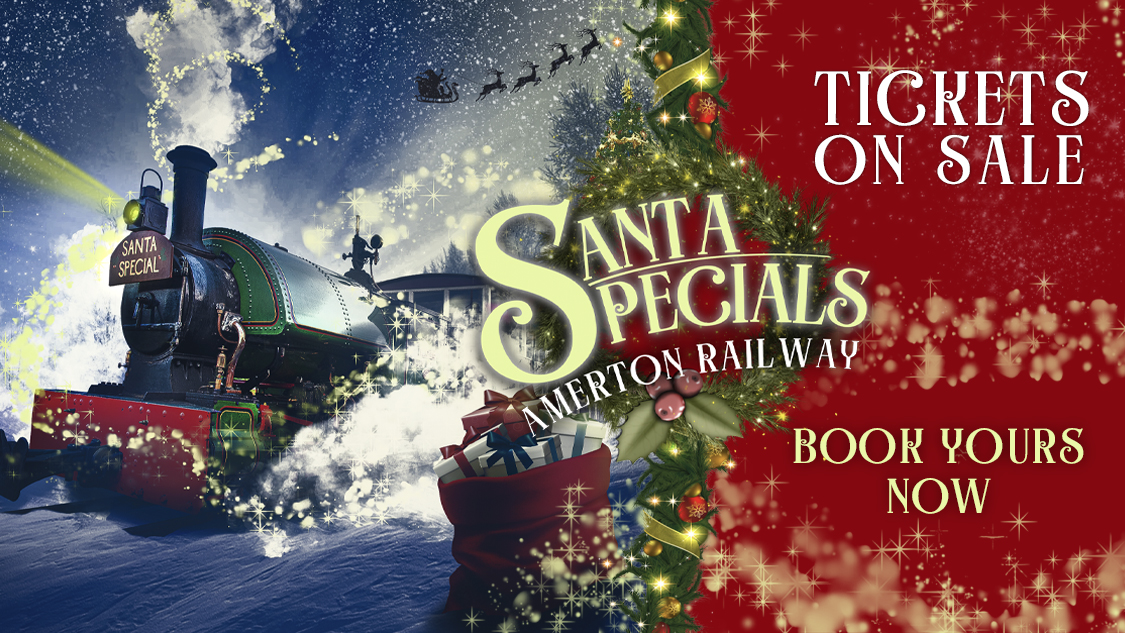 Click here to book your tickets
Contact us
If the phone isn't answered please leave a message or contact us by E-Mail or Facebook, the phones are manned by volunteers who may be at work.
Helpie FAQ
What are your train times?
Our train times are as follows:
11:00
11:40
12:20
13:00
13:40
14:20
15:00
15:40 (Doesn't run on Christmas Eve)
16:20 (Doesn't run on Christmas Eve)
17:00 (Doesn't run on Christmas Eve)
We're still working this out exactly. But it will contain some Christmas chocolate, sweets for the children, some colouring sheets and colouring pens.
What happens if I get COVID symptoms and must isolate?
If you notify us with a minimum 24 hours notice that you cannot travel we will try to transfer you to another day, or refund you in full.
What happens if COVID restrictions change and you cannot run?
If we need to cancel our trains due to changes in the restrictions we will refund you in full.
Do we get reserved seats?
Though we do not reserve a specific seat on the train, your choice of compartment will determine where you sit as each carriage has different seating plans. If you have booked multiple compartments as a group and would like to sit close to eachother, we may be able to help. The best thing to do is arrive early for your train and make one of our volunteers aware as soon as possible.
Are the carriages heated?
The carriages we use are old and although we have done lots to improve them they are partly open to the elements, mostly on one side. Please wrap up warm.
Do we get off the train to see Santa?
Santa comes along the outside of the train to meet all the passengers as we don't have facilities to accommodate all the passengers away from the train.
How long are you on the train for the Santa Specials?
You will be on the train for around 25 minutes. This will include time at 'Toyland' while you see Santa.
Do I have to create a PayPal Account?
We use Paypal to process all our card transactions. You can complete the payment without setting up an account by using the guest checkout which appears when you are directed to paypal. Ensure at the bottom of the form where it asks Why not Create a Paypal Account you click on No Thanks and agree to the terms and conditions.
See what our customers think