Hunslet Steam No. 3905 "Jennie"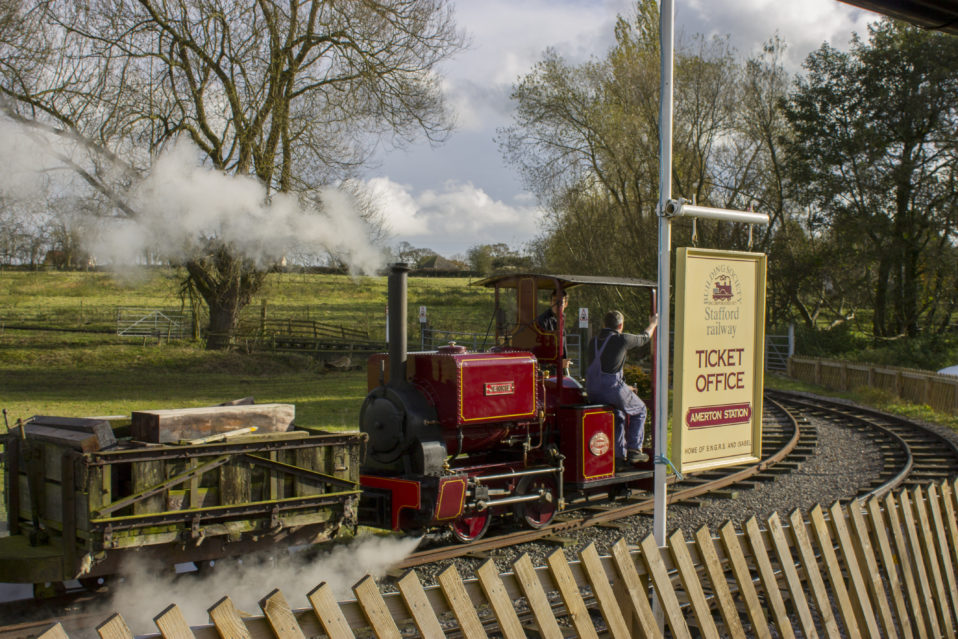 Technical Data:
| | |
| --- | --- |
| Builder: Hunslet | Cylinders: 6in x 9in |
| No: 3905 | Weight: 4¼ tons |
| Year: 2008 | Livery: Maroon, lined yellow |
| Wheel dia.: 1ft 8in | Wheelbase: 3ft 0in |
| Tank capacity: 87 galls | Boiler pressure: 140 psi. |
| Tractive effort at 89% B.P.: 2016 lbs | Approximate Horsepower: 28 hp |
Jennie is a Wren class locomotive as originally built by Kerr Stuart, but she was actually made by Hunslet Steam at their works at Statfold near Tamworth and was completed in 2008. She is an almost exact copy of the original design, the last one of which was built in 1941, again by Hunslet who had taken over the goodwill of Kerr Stuart in 1930. She has been built in the traditional way with a riveted boiler and has been fitted with driver's air brake controls.
She arrived at Amerton having been acquired by a member of the Railway on 29th September 2008, and has seen much use on our services since. When originally built she was named Howard, but was renamed Jennie after the new owners wife at a ceremony on 26th December 2008 at Amerton.
She is extremely economical on coal and water, and is easily able to cope with our 4-coach passenger train. She has also visited other railways including the Leighton Buzzard Railway, Hollycombe Steam Museum and even a trip over to Maldegem Stoomcentrum, Belgium in 2013!
Videos