Hunslet No. 8561 "Gordon"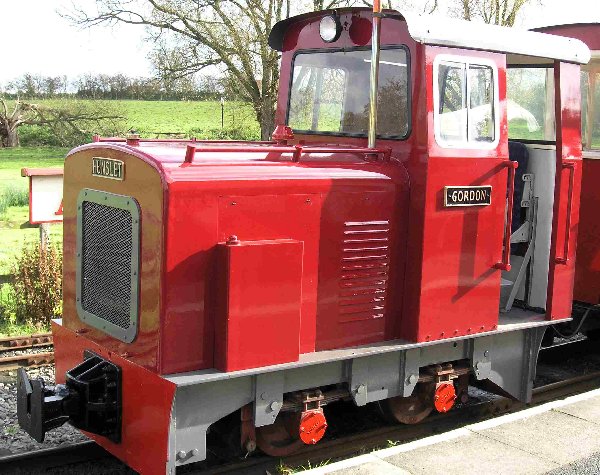 Technical Details:
| | |
| --- | --- |
| Builder: Hunslet Engine Co., Leeds | No.: 8561 |
| Weight: 4 tons | Year: 1978 |
| Tractive effort: 28 hp | |
This flameproofed underground loco arrived at Amerton on 29th January 1996 having been purchased from a scrap-yard in Fife. The loco is typical of an NCB loco and has hydraulic drive to the two axles, fully air-braked and fitted with a variety of hydraulic and pneumatic safety devices.
Previously working at Allerton Bywater and Castlebridge Collieries, the loco is fitted with a Perkins 3.152 engine and is generally of very sound construction. The loco has now been re-gauged to 2 feet and has undergone an extensive re-build, the Perkins engine being virtually new. The gearbox and torque converter have been fully overhauled with modifications to obtain a slightly higher top speed.
A new cab and body work was designed by John Strike based on the contemporary "Wagonmaster" locos, and the parts were fabricated and assembled at Amerton, making a modern comfortable and very capable machine. Gordon has become our main passenger diesel.