E.E Baguley No. 3024 "Dreadnought"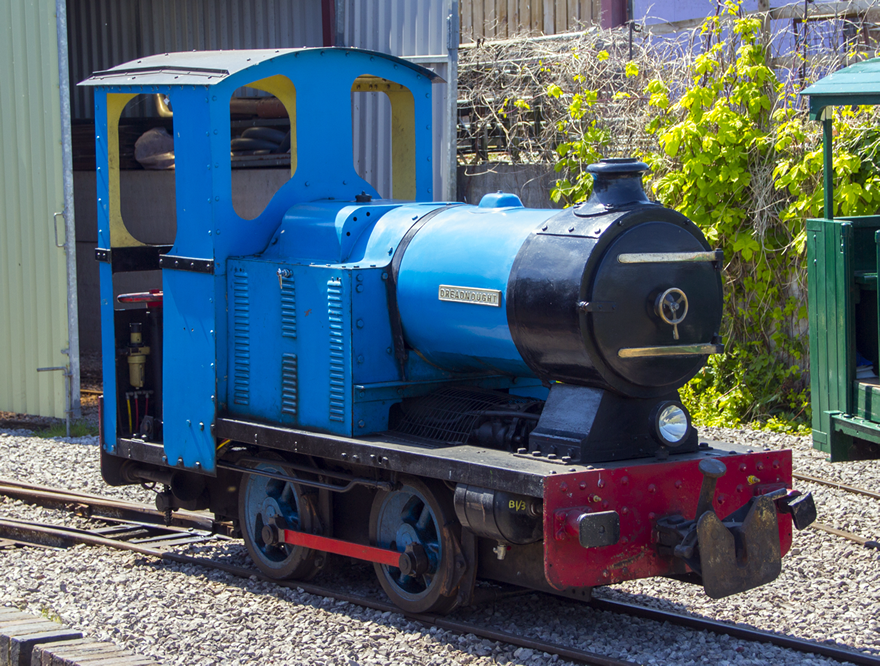 Technical Details:
| | |
| --- | --- |
| Builder: E.E. Baguley Ltd, Burton | No.: 3024 |
| Weight: 3 1/2 tons | Year: 1939 |
| Livery: Blue | Tractive effort: 18 hp |
This steam outline locomotive was ordered by Mr. R.J. Lakin and delivered new to Wilson's Pleasure Railway, Allhallows-on-Sea, Kent in 1939. Originally fitted with a Ford petrol engine of 24 hp, it was named No. 1 Dreadnought. The loco is an 0-4-0 with a 2-speed gearbox driving the front axle via chains and with traditional coupling rods to the rear axle. Just after the war the loco moved to the pier at Walton-on-the-Naze, Essex, where in 1952 it was re-engined with a Lister FR2, and later still with a Lister SR3.
In 1978 the pier was damaged in a storm, and with the railway destroyed the loco was sold to the Camelot Theme Park, Charnock Richard, Lancashire, appearing there in 1983 after overhaul at Steamtown and now carrying the name The Lady Guinevere. 1987 saw the loco move to Hewitts Farm, Orpington, where one or two alterations were made, including a new cab, a cow-catcher and a spark arrester!
The loco was purchased and moved to Amerton on 13th September 1991, and since this time has been rebuilt to something approaching original condition, but still retaining its modern Lister SR3 engine. The loco is fully air-braked, and as such is suitable for passenger train operation.
Early in 2000, Lawrence overhauled the original gearbox, it being in remarkable condition other than general wear. She re-entered traffic in April 2000.