Motor Rail Simplex No. 7471 "Dorman"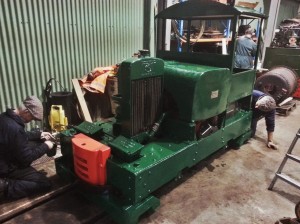 Technical Details:
| | |
| --- | --- |
| Builder: Motor Rail Ltd., Bedford | No.: 7471 |
| Weight: 3 1/2 tons | Year: 1940 |
| Livery: Green | Tractive effort: 20/28 hp |
Delivered new to Hussey, Egan & Pickmere Ltd, Birmingham in 1940 at a cost of £286 19s 5d (around £13,600 today), a 20/28 hp design, with a Dorman 2DWD engine. The loco was acquired by Droitwich Canals Trust in 1976,   The loco was based at Ladywood and then Vines Park, Droitwich from 1980 working on the the Ladywood/Salwarpe section.
An SNGR member bought it derelict sold it on to Messrs Dorman Diesels in 1991 to be used on an Apprentice Training Project in Stafford.   Paul James led a full restoration at Dormans including the spares depot at Lincoln where parts for the 50-year-old engine were still available!  After the work was completed 7471 arrived at Amerton on 27th June 1991 and a full hand-over ceremony took place on 27th March 1992.  The loco is now privately owned by 2 members, has been repainted and air braked and had a cab fitted but retains hand start !