Isabel – W.G. Bagnall No. 1491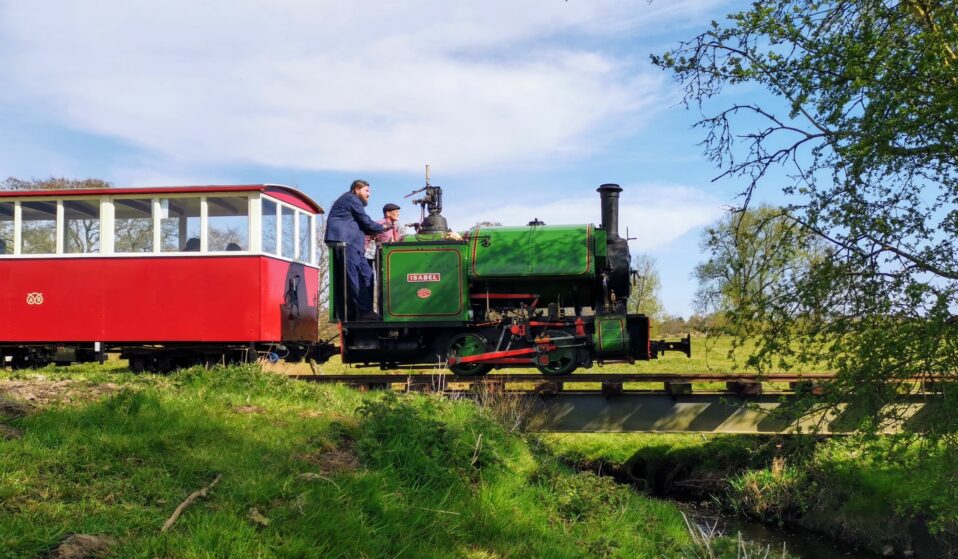 Technical Details:
| | |
| --- | --- |
| Builder: W.G. Bagnall, Stafford | Cylinders: 7 inch x 12 inch |
| No.: 1491 | Weight: 7 tons |
| Year: 1897 | Livery: Medium green, lined red/black/yellow |
| Wheel diameter: 1 foot 9 1/2 inches | Wheel base: 3 foot 6 inches |
| Tank capacity: 150 gallons | Bunker capacity: 7 cubic feet |
| Boiler pressure: 140 lbs per square inch | Tractive effort at 85% B.P.: 3256 lbs |
| Length over buffer beams: 11 feet 7 1/4 inches | Width: 5 feet 6 inches |
| Height to chimney: 7 feet 6 3/4 inches | |
Isabel's Story
Isabel was one of the earliest locomotives to be built to the design of E.E. Baguley, and one of hundreds of this type built between the 1890s and the 1950s. However, Isabel has Baguley Patent Valve Gear, and she is probably the last working example in the world with this valve gear. She was delivered new on 9th February 1897 to the Cliffe Hill Granite Company of Markfield, Leicestershire, and was named after one of the quarry owner's daughters. She had a fairly uneventful life, initially hauling granite on their mainline, and latterly being used as a shunting engine. Eventually she ceased work around 1946 and was laid up with all the other locomotives at the quarry awaiting the fate of the scrapman's torch.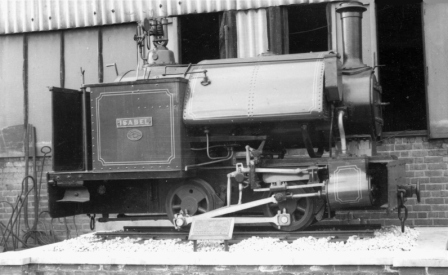 However, Isabel was lucky. W.G. Bagnall, who were very much still in business in Stafford at that time, were looking for a suitable display locomotive, and in March 1953 Isabel was brought back to be restored by the apprentices, and finally she was put on display on a plinth at Castletown.
She remained on display at the Castle Works until English Electric took over Bagnalls' in 1961, and locomotive construction ceased in Stafford. Through the interest of the Stafford Railway Circle (formed 1959) Isabel was moved to a site in Victoria Park opposite the new (fourth) Railway Station in Stafford, where she was mounted on a plinth.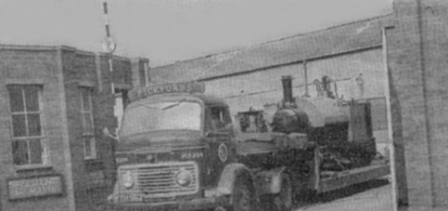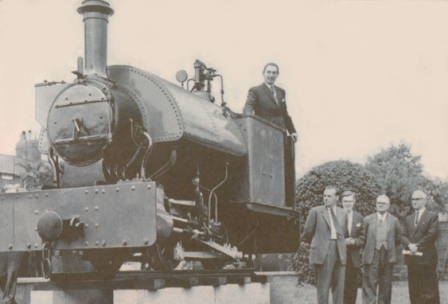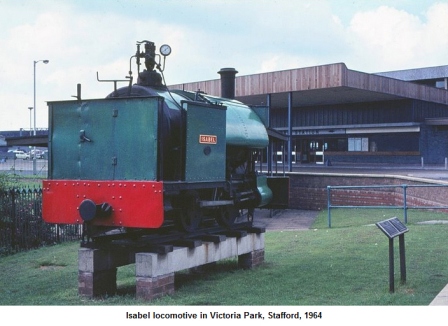 Isabel was cosmetically restored at the former Bagnalls' works (now GEC Castle Works) by apprentices in 1977. The side panels and floors were replaced (side panels in aluminium), and the whole locomotive was ground to the bare metal and welded where necessary. Isabel was then hand painted, and unveiled at the Open Day at GEC Castle Works by the Mayor of Stafford, before being transported back to the plinth outside Stafford Station.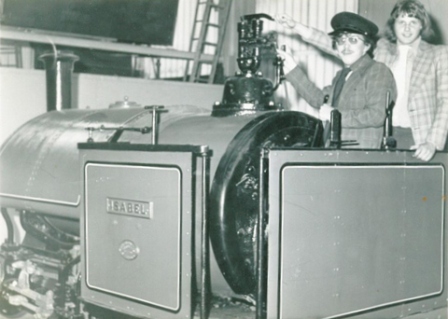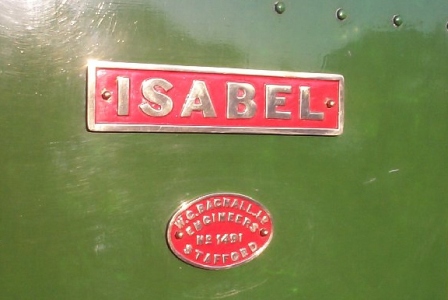 By the early 1980s Isabel presented a very sorry sight. Her chimney had collapsed and much of the plate-work was rotten.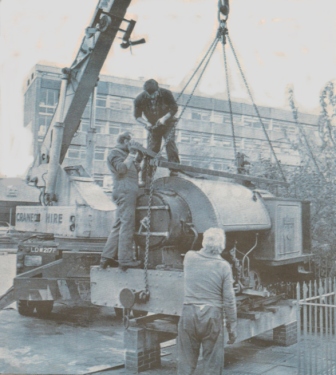 In November 1983 she was removed to be restored in conjunction with Stafford Borough Council, but this initial scheme was destined not to be completed. It was around this time that a small number of local enthusiasts heard of Isabel's predicament and formed the Stafford Narrow Gauge Railway Society Ltd (SNGRS) to complete a thorough restoration of the locomotive back into steam. Thus agreement was reached with Stafford Borough Council in October 1987 and work started in earnest at a Council depot. The resultant restoration over three years repaired the boiler, fitted a new chimney and saddle-tank, and all new plate-work; the result was awarded the 1989 Dorothea Award for Conservation and the 1993 British Coal Steam Heritage Award. More recently, she has been fitted with a steam brake and a steam-air pump of the Westinghouse type to charge the train brakes.
Isabel arrived at Amerton on 26th October 1991 and ran her first revenue earning trains in July 1992.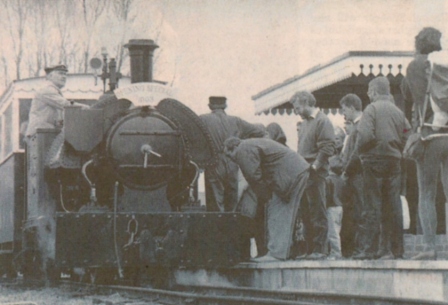 In service she has proved very capable and free steaming, although it takes about 3 1/2 hours to raise steam due to the design of the firebox, another Baguley feature. In 1998 three Society members investigated the mysteries of the Baguley Patent Valve Gear, the result of which produced modifications that have made a huge improvement to Isabel's performance.
She has made two working visits to other NG lines, including the South Tynedale Railway in 1996, and more recently the Leighton Buzzard Railway, where she was able to haul lengthy passenger trains in very unfamiliar surroundings!
Isabel was withdrawn from service in October 2007, and her boiler was removed for rebuilding, see below. She was replaced by Emmet for all steam services.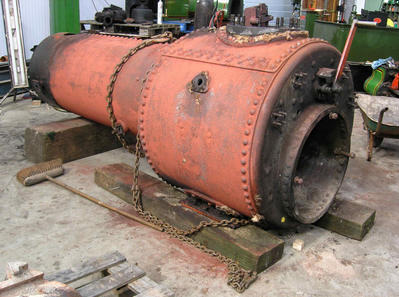 Isabel returned to service in December 2009 after her two year overhaul. This included major repairs to the boiler, rebore of the cylinders with new pistons and rings and new slippers fitted to the crossheads. She was also repainted and relined. However, after the first steaming some rivets in the boiler unfortunately started to leak slightly. The boiler cladding was removed for evaluation and the advice from our boilermaker and boiler inspector was that there was nothing seriously wrong, but the recommendation was that the cladding should be left off for a large proportion of the 2010 season as long as there were leaks.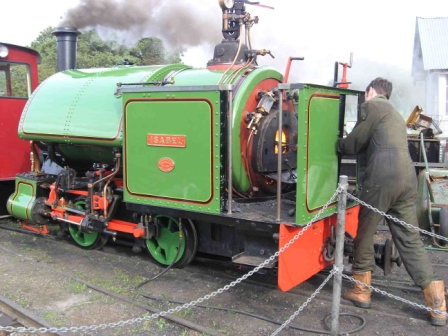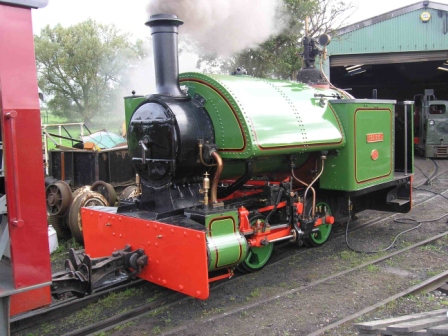 Isabel is jointly owned by Staffordshire Narrow Gauge Railway and Stafford Borough Council.