Ruston & Hornsby No. 506491 "Littleton Ruston"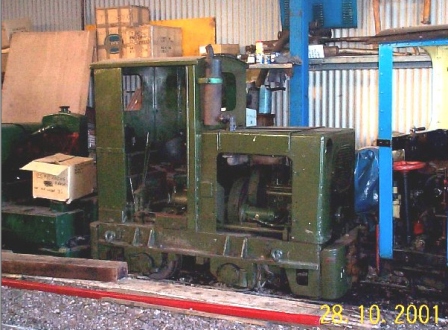 Technical Details:
Builder: Ruston and Hornsby, Lincoln
No.: 506491
Weight: 4 tons
Year: 1964
Livery: Green
Tractive effort: 31.5 hp
This Ruston LBT is one of a number of 2 feet 6 inches locos delivered new to the NCB starting in 1959, to modernise the surface stockyard operations at their South Staffordshire Collieries. She is fitted with an air-cooled two-cylinder Ruston 2YDAL engine, with the drive through a 2-speed gearbox with hydraulic engagement of the cone clutches. Purchased from Littleton Colliery on 24th April 1994, she moved to Lawrence's house, where a full restoration was carried out. Regauging to 2 feet was carried out by the Talyllyn Railway, and many other parts were sourced from other locos. Finally she was delivered to Amerton on 16th May 1997, and she sees regular use on engineering trains.